Due to every order being unique, our standard production time can take up to 4 to 5 working days.* This is subject to change during busy periods, for high volume orders or when additional work is required, such as digitising.
Please let us know if you have any specific requirements or a certain deadline.
If you need your order in a rush, 24hr and 48hr Express Production and Dispatch options are available at a premium*. These can be selected at checkout.
*a minimum surcharge of £7.95 applies
Choosing one of these options does not mean you'll receive the order within 24 or 48 hours, It means we will produce [print] your order within 24 or 48 hours and then ship by the delivery method of your choice, see the delivery section below for more on the delivery options available.
The fastest way to recieve your order is to choose 24hr Express Production and Next Day Courier Delivery, which means we will produce [print] and ship the next day.* You will receive it following working day* or a Saturday [only] if you opted for the Saturday delivery option.
24hr Express Production with Next Day* Courier Delivery:-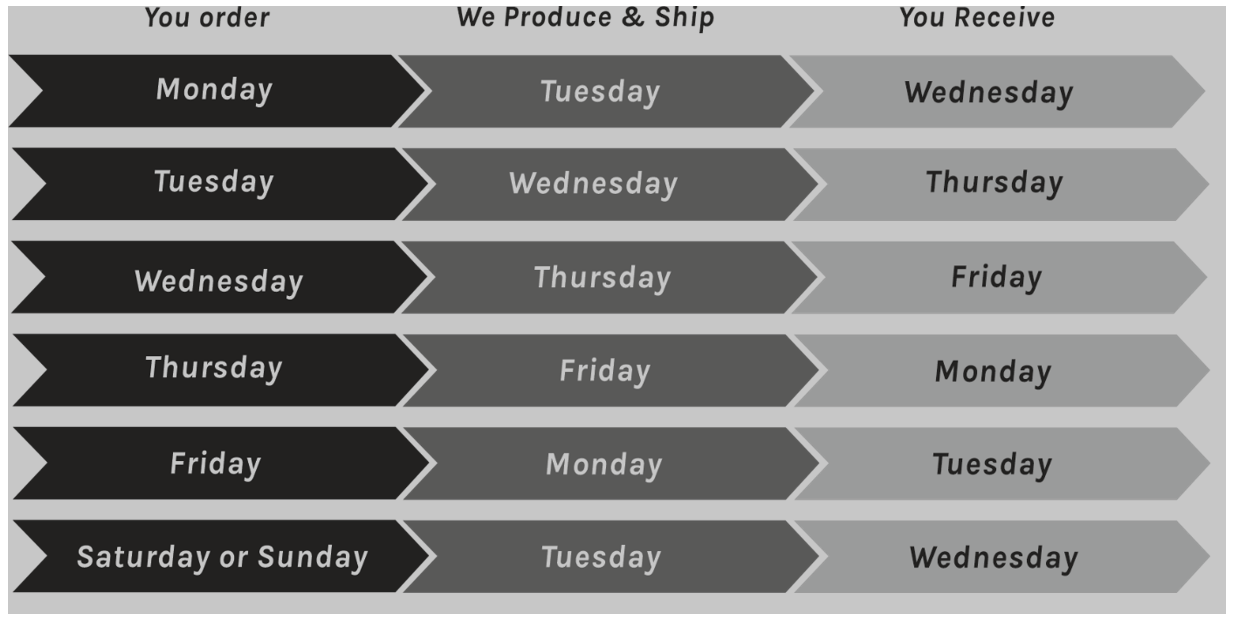 48hr Express Production with Next Day* Courier Delivery:-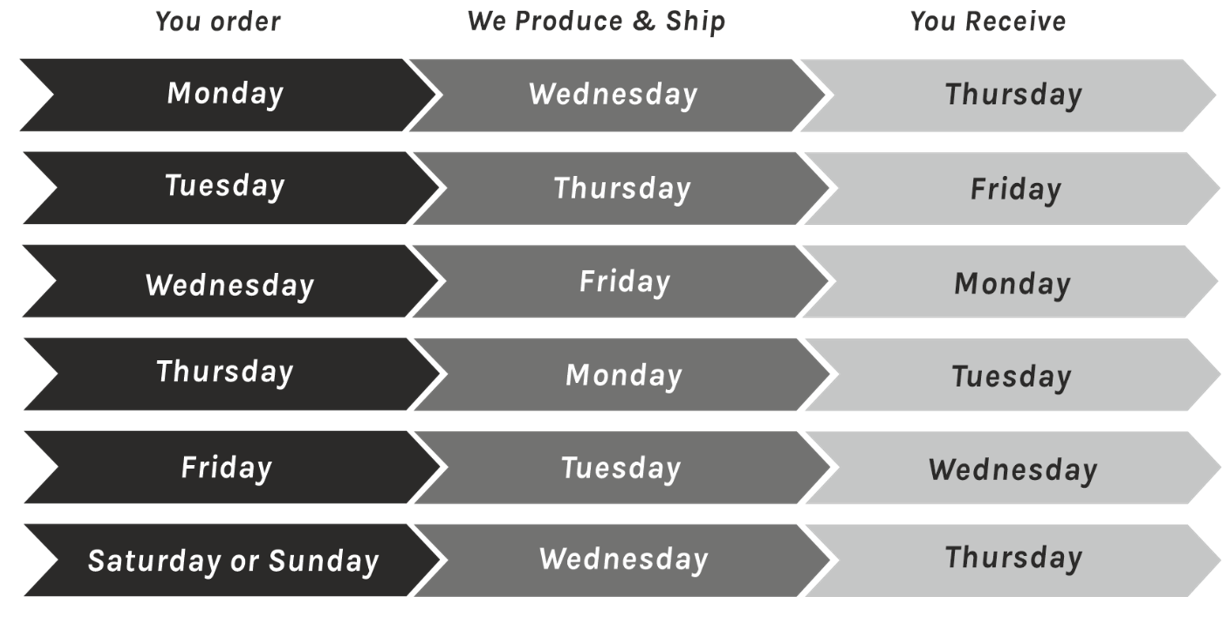 Note Choosing Royal Mail 24, 48, Royal Mail Tracked or FREE delivery instead of Next Day Courier is not guaranteed by us or Royal Mail and may extend the delivery time
.
All orders placed after 5pm on a week day will roll over to the next working day.*
Express Orders must be placed by 5pm on a week day otherwise the order will roll over to the working next day.* There are only a limited number of Express Production print slots and they do fill up fast throughout the day, so best order early to ensure a slot.
Express Production orders are not available on weekends or bank holidays
Note If the 24hr or 48hr Express Production options are not listed on the shipping page at checkout, this means all Express Production print slots have been allocated for that day and no longer available at the time of ordering. Your order will be produced within 4 to 5 working days and then shipped. [even if Courier Delivery is chosen]
Good artwork is essential for the final print quality, so if there is an issue with the artwork provided, we'll need to "Stop The Clock" until the problem has been resolved via a resubmission or you give us permission to proceed with a solution. Check out our Artwork Tips page for more info about supplying good artwork and restrictions.
*excludes weekends and bank holidays
Delivery
---
Delivery is FREE for orders over £50.00 + vat. Please be aware the FREE delivery option is sent via Royal Mail 48 Mail and is not Guaranteed Next Working Day or Tracked. It also does not apply to orders outside the UK. FREE delivery can take up to 3 - 5 working days from time of shipping depending on weight. If your order is time critical we also offer a DPD or DHL Next Day or DPD or DHL Saturday delivery options (Where applicable). This includes tracking. Please select this option if your order is urgent!
| | | |
| --- | --- | --- |
| Royal Mail 24 | Royal Mail Tracked | DPD Next Day |
| £2.95* | £3.95* | £8.95* |
| DPD Saturday | International | International Tracked |
| £16.95* | £4.95* | £8.95* |
*prices may vary due to weight & dimensions

Note: Weekends and bank holidays do not count as "Next Day" If you need a Saturday delivery you must choose this option at checkout.
Express Production orders are not available on weekends or bank holidays